When you or the people you love suffer with an alcohol or drug addiction, you need help – not another person to provide well-meaning suggestions.
You are probably aware of drug rehab centers. They are places where people go to get help with substance abuse – either in the form of alcoholism or addiction to drugs. Drug rehab clinics focus on helping patients detoxify, as well as treating their addiction to alcohol and drugs. Many rehab centers have a detoxification facility where they help patients detox from alcohol and drugs such as fentanyl. However, it is important to remember that the goal of a drug rehab center is not to get you sober, but rather recover from the effects of substance abuse, so that you can live clean and be ready for life without drugs or alcohol. The best way to learn about rehabilitation centers is by doing research on the internet. This can be done by Googling "addiction treatment centers near me" or "rehabilitation center near Salem OR".
When you come to Pacific Ridge's Salem Oregon Drug and Alcohol Addiction Rehab Treatment Center, you enter a safe haven for those seeking substance abuse treatment. We invite you to begin your road to recovery. The Pacific Ridge treatment center in Jefferson, Oregon is located just 60 minutes south of Portland.
Even if your struggle is not on this list, it's likely we're equipped to help. Please contact us so we can talk.
Inpatient Addiction Treatment Programs at Pacific Ridge
Over the years, we've helped many overcome alcohol addiction. We use our knowledge and experience to give first-rate alcohol rehab treatment and care to all of our patients.
How Long Does Inpatient Rehab Take?
Because we're so dedicated to helping patients achieve sobriety, each patient at Pacific Ridge receives a personalized treatment plan focused on their individual needs. We've helped many people overcome their addictions to drugs and alcohol for years now. Our drug rehabilitation program helps them identify the triggers that have led them to relapse and learn coping skills to deal with these problems on their own terms.
Our patients often have a tough road ahead of them after they leave our facility — healing from the substance abuse issues they suffered at home and all the hurdles they had to overcome before arriving at Pacific Ridge. If you need help with your addiction or if you want to learn more about our drug rehabilitation program or withdrawal symptoms recovery options, please contact us today!
How Much Does Detox, Drug Rehab and Alcohol Rehab Cost?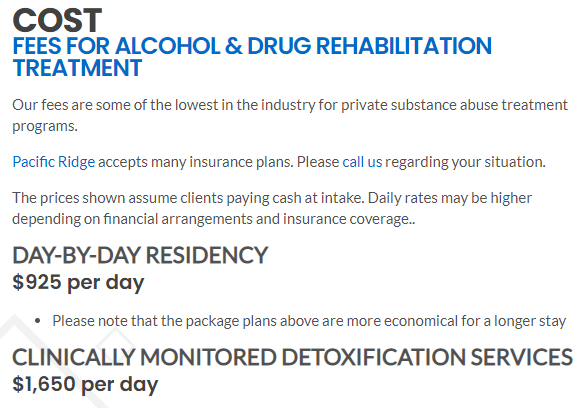 We know overcoming alcohol dependency is challenging, so we do everything we can to lighten your burden. Our drug and alcohol treatment comes at an affordable price – some of the most affordable treatment programs available. Our focus is helping you get your life back.
We understand how difficult it is to overcome alcohol addiction. All our alcohol rehab center patients receive treatment tailored to them as an individual. We'll help you recover with gentle and honest care. The support doesn't end upon discharge. Once you've successfully completed our inpatient alcohol treatment program, we'll suggest premiere outpatient programs so you can continue to excel in your recovery.
We'll be with you for every step of the recovery process, and we encourage family and friends to be a part of your recovery – even attending sessions with you at no additional cost.
Does Inpatient Treatment Help with Mental Illness?
Mental illness increases a person's likelihood of using alcohol and other addictive substances, which increases one's chances of becoming addicted, and makes it even more difficult to deal with substance abuse issues. We believe that treating alcohol addiction without treating mental illness is looking at only one half of the issue. As part of our alcohol rehab center's program, we bring in other experts to help with mental health needs. We work hand-in-hand with mental health services practitioners to improve patients' overall well-being and produce long-lasting results.
Addiction treatment programs and related rehab services available at our Jefferson, Oregon, campus include detox, inpatient rehab, post-treatment groups and recovery support, and family education.
Experienced Addiction Treatment Counseling
Over the years, we've helped many overcome their drug addictions. We use our knowledge and experience to provide first-rate Oregon drug rehab treatment and care. Our staff is trained, equipped, and thoroughly experienced to help with the withdrawal stages of coming out of addiction while preparing you to continue to master urges to relapse for a lifetime. The Pacific Ridge drug rehab facility offers individualized care plans based on the particular needs of the patient, including psychological counseling, group therapy, nutrition education, physical fitness programs, medication-assisted addiction treatments, and more.
Professional Addiction Treatment Center Staff
At Pacific Ridge, our clients receive care from trained, understanding, professional staff who have years of experience working with people with alcohol dependency issues. All our counselors are certified, and many bring their own recovery experience to the treatment program.
Of course, confidentiality is something that you must expect from a professional Oregon alcohol treatment center's staff. We understand how sensitive addiction is, and do everything we can to maintain your privacy and dignity during this time. Please read our privacy notice for more information.
Goals of our Drug & Alcohol Addiction Treatment Services
Pacific Ridge regards each client as a unique person with specific needs. Individual treatment plans are developed for each client; however, there are basic treatment goals that apply to all. Pacific Ridge's program is designed to help people struggling with alcohol addiction do the following:
Understand and accept chemical dependency as a primary disease
Understand and admit that you need help to learn how to live with your chronic illness in a constructive manner
Identify what you will need to change in order to enjoy a happy, productive recovery
Begin making changes by putting into action the knowledge you have gained about your disease, yourself, and your recovery
The Treatment Atmosphere at Pacific Ridge Rehab Center
Located near Salem, Oregon, on 18 beautiful acres, Pacific Ridge alcohol & drug rehabilitation in Oregon was founded in 1995. Through the years we have been privileged to help many people begin their successful recovery from drug addictions.
Pacific Ridge is a private drug treatment program that accepts referrals from all sources. Residents at Pacific Ridge must want to be here and voluntarily agree to cooperate with treatment. This provides for a treatment atmosphere that is recovery-oriented rather than corrections-oriented.
Treatment groups generally consist of people who have accepted that they have a problem and are seeking a lifelong goal of abstinence from drugs.
We believe that the most successful treatment for the disease of drug addiction includes the family in a supportive, encouraging treatment setting. We encourage support people to be involved in treatment as much as possible from intake through to discharge.